Continuing on my earlier posts on a few interesting data sets on some select startups (and scale ups) in the autonomous driving eco-system………….
There was a recent article in Business Insider which cited Morgan Stanley's auto and mobility analyst Adam Jonas' view of connected cars in his Auto 2.0 future as mobile real estates, data pipes. It is an interesting read with the car-as-data-node idea and some takes on paths chosen by tech companies in the transportation space; do read.
While the primary purpose of the hardware asset – car – has not changed much (still mobility/transportation), what has evolved though is the increasing awareness of leveraging further value from this asset – leading to data as a major source. As the monetized value of the data grows more than that of mobility created by the asset, the asset gets more linked to the former – data conduits in this case. The main point, in my opinion, is who benefits to what extent from this data conduit. And if one looks at that stack, the hardware maker's existing share of that pie does not sit favourably with that of others higher up in the stack; especially with the level of investments made by the hardware maker to enable that value; whether as a by-product or otherwise.
Mobile phone is another such hardware asset, though on a different scale.
But then I digress…….
Whatever may be one's view on the tech companies and traditional automotive manufacturers, a very pertinent point here is one of increased data creation and mobility in this sector. And the Israeli startup Otonomo founded in 2015 has come up with a platform to monetize this – a $750 billion industry by 2030 as per McKinsey. It does so by having created a marketplace connecting car manufacturers and drivers with service providers and other entities like smart cities, insurance companies and others that would profitably deploy the data.
With leading automotive components supplier Delphi as one of its investors and nine automakers included in its clients list (Daimler being the only one it can publically cite), Otonomo is sitting on a good business model. A roadblock, by no means insignificant, though is the regulations and restrictions surrounding the use of this data. The company adheres to the Driving Privacy Act of 2015 as per which all data collected by the vehicle is the property of the vehicle's owner/lessee unless the owner gives an explicit consent to share.
And that is one area that we as vehicle owners have not usually been very circumspect about.
Below is the Otonomo snippet from my brief: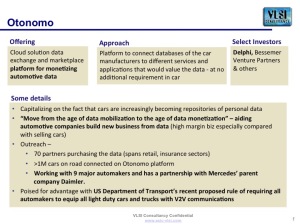 Look out for my 4th of 5 parts post on this topic next week.