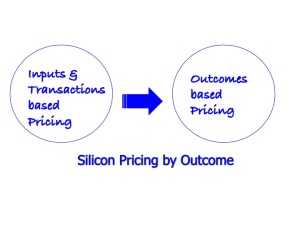 The September 2016 HBR issue has an article, " Putting products into services" by Mohanbir Sawhney. The author here addresses on how high end professional services firms can realize the same premium returns as product or platform firms. He elaborates on 3 phases: discovering opportunities, developing products and monetizing products
Reading on the monetizing products part made me ponder on a similar aspect in the semiconductor biz: how can a semiconductor vendor monetize more on the value the underlying semiconductor chip creates? Let me share some of my thoughts here.
The article refers to two monetization levers – Transaction based pricing (corresponding to productivity gains basis automation) and Outcome based pricing (to intelligence gains basis analytics). The shift is sequential – for a services entity this is a transition from getting paid for inputs (time & materials) to getting paid for throughputs (transactions) to getting paid for outputs (outcomes).
Now looking at it from a chip vendor's perspective: At a very basic level, a chip is presently sold basis factors like technology, process, function, performance, size, power etc. I call this here as the "socket price". This is akin to getting paid for inputs (silicon cost) and/or throughputs (performance). Now if it were to be paid for basis the outcomes of the final system/product/service that it enables, that will be the next phase of the pricing shift. Taking the cue from GE's "power by the hour", it would be something akin to "Silicon pricing by the outcome"
However, as also cited in the article, pricing outcomes is more difficult than pricing transactions as it requires qualitative judgements as well as quantitative assessments. How does one define the value, measure it and attribute value creation to the proper source. A product specialist could play a key role here.
An IoT product delivering services may serve as a good example here. It includes silicon content – sensors, controller, memory, onnectivity etc. along with data sets collected and analyzed, insights derived and subsequent services priced and sold along with the product. System know how coupled with domain/vertical know-how can additionally help in defining the value the underlying silicon enables to the final product and services – which can be factored in to develop a pricing model to monetize the silicon content more effectively.
A chip vendor's sales force aligned by vertical markets can be an asset here. Point to note here is the recent news on Intel's sales force.
Let me know what you think.